In this tutorial, we will write a java program to print diamond pattern of stars. Before that, you should have knowledge on the following topic in Java.
---
Java Program to Print Diamond Pattern
Source Code: the program asks the user for the input of a number of rows for the diamond star pattern in java. Then using for loop, the diamond shape pattern is displayed on the screen.
1

2

3

4

5

6

7

8

9

10

11

12

13

14

15

16

17

18

19

20

21

22

23

24

25

26

27

28

29

30

31

32

33

34

35

36

37

38

39

40

41

42

43

44

45

46

47

48

49

50

51

// Print Diamond star Pattern in java

import

java

.

util

.

Scanner

;

public

static

void

main

(

String

args

[

]

)

Scanner

scan

=

new

Scanner

(

System

.

in

)

;

System

.

out

.

print

(

"Enter the no. of Rows: "

)

;

for

(

j

=

1

;

j

<

=

space

;

j

++

)

for

(

j

=

1

;

j

<

=

(

2

*

i

-

1

)

;

j

++

)

for

(

i

=

1

;

i

<

=

(

n

-

1

)

;

i

++

)

for

(

j

=

1

;

j

<

=

space

;

j

++

)

for

(

j

=

1

;

j

<

=

(

2

*

(

n

-

i

)

-

1

)

;

j

++

)
Output: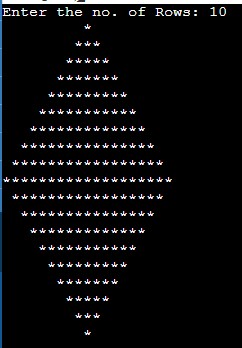 ---