In this tutorial, we will write a C program to implement heap sort. Before that, you may go through the following topics in C.
Heap Sort Algorithm
Heap is a tree in heap sorting that possesses some specific properties whose value should be greater than or equal to that of the children node.
Heapsort is a comparison-based sorting algorithm and is also considered as the improved Selection sort. It is based on a Binary Heap data structure so to understand we must know two types of data structure:
Arrays and trees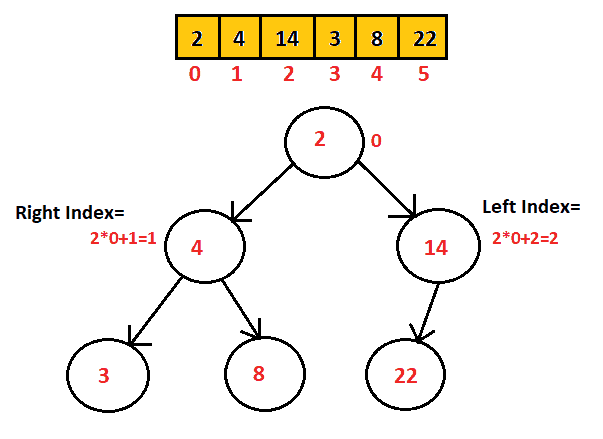 Learn more on Heap sort.
---
Implementation of HeapSort Algorithm in C
Question: C program to implement Heap sort using function.
1

2

3

4

5

6

7

8

9

10

11

12

13

14

15

16

17

18

19

20

21

22

23

24

25

26

27

28

29

30

31

32

33

34

35

36

37

38

39

40

41

42

43

44

45

46

47

48

49

50

51

52

53

54

55

56

57

58

59

60

61

62

63

64

65

66

67

68

69

70

71

72

73

74

75

76

77

// implementation of heap sort in C program

void

heapSort

(

int

arr

[

]

,

int

n

)

;

void

heapify

(

int

arr

[

]

,

int

size

,

int

i

)

;

printf

(

"Enter the number of elements: "

)

;

printf

(

"Enter %d Elements:\n"

,

n

)

;

//calling sorting function

printf

(

"\nArray after sorting: \n"

)

;

void

heapSort

(

int

arr

[

]

,

int

n

)

for

(

int

i

=

n

/

2

-

1

;

i

>

=

0

;

i

--

)

// One by one extract an element from heap

for

(

int

i

=

n

-

1

;

i

>

0

;

i

--

)

// arrA[0] being max element

void

heapify

(

int

arr

[

]

,

int

size

,

int

i

)

int

leftChild

=

2

*

i

+

1

;

int

rightChild

=

2

*

i

+

2

;

// If left child is larger than root

if

(

leftChild

<

size

&& arr[leftChild] > arr[largest])

// If right child is larger than root

if

(

rightChild

<

size

&& arr[rightChild] > arr[largest])

// If root is not largest

heapify

(

arr

,

size

,

largest

)

;
Output:
Enter the number of elements: 6
Enter 6 Elements:
25
98
3
124
66
9

Array after sorting:
3 9 25 66 98 124
---