This article shows the result of how to display all the magic numbers between 1 to nth number in C programming.
What is Magic Number?
A number is said to be a Magic Number if the sum of the digits of that number, when multiplied by the reverse number of the sum of its digits, is equal to the original number.
Example: 1729 is a magic number.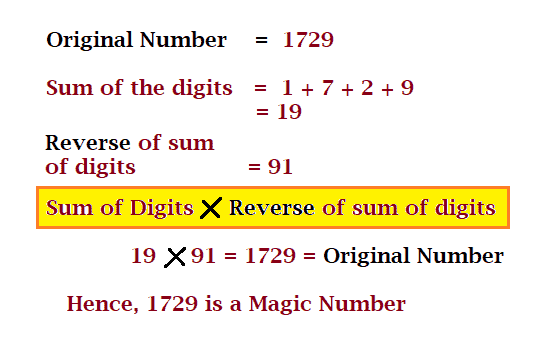 ---
C Program to print all Magic Numbers till N.
1

2

3

4

5

6

7

8

9

10

11

12

13

14

15

16

17

18

19

20

21

22

23

24

25

26

27

28

29

30

31

32

33

34

35

36

37

38

39

40

printf

(

"Enter the last number you want to check between 1 to:"

)

;

//loop to check all the number

for

(

i

=

1

;

i

<

=

num

;

i

++

)

//calculate sum of the digits

sumOfDigits

+=

temp

%

10

;

revnum

=

revnum *

10

+

temp

%

10

;

if

(

revnum *

sumOfDigits

==

i

)
The output of magic Number in C:

---